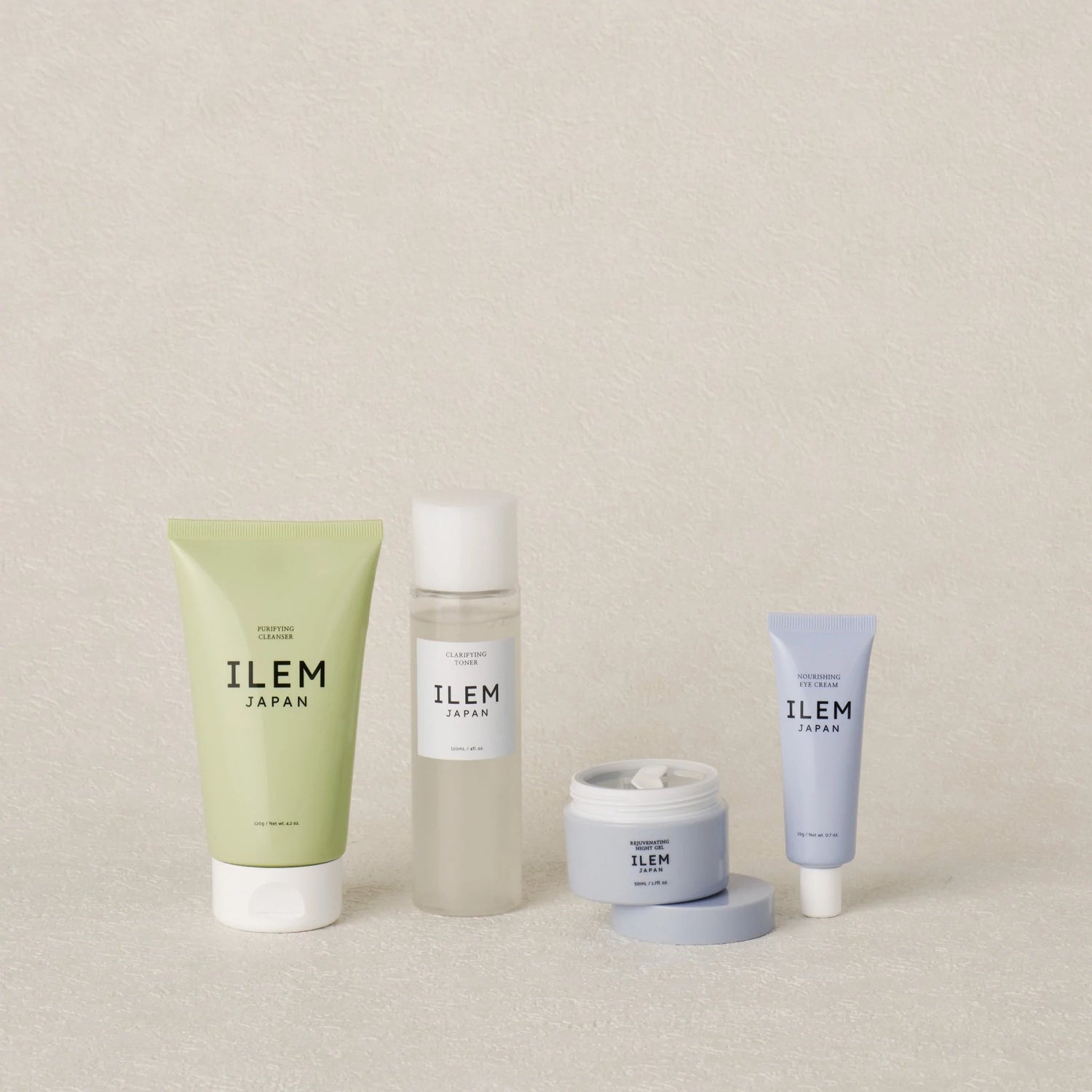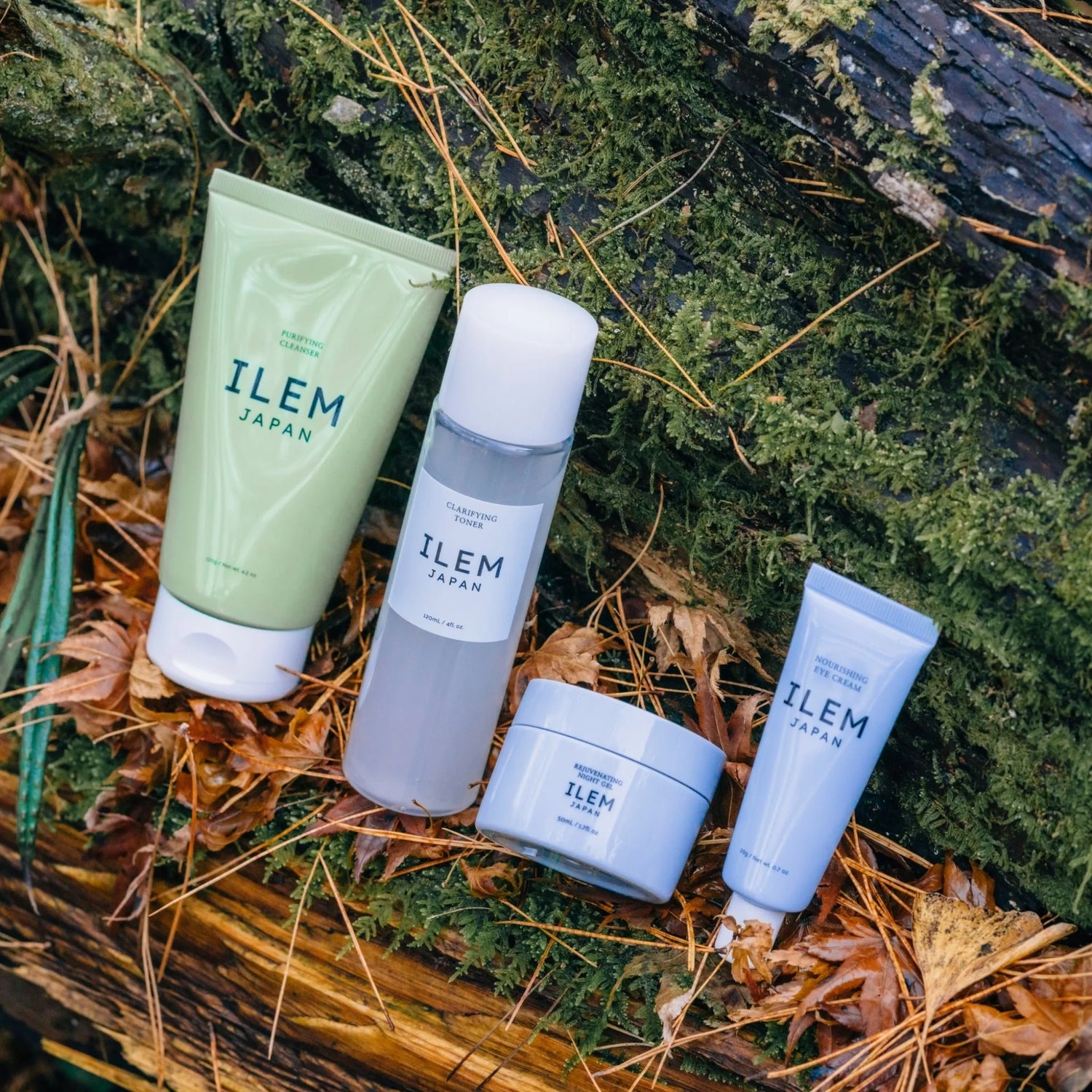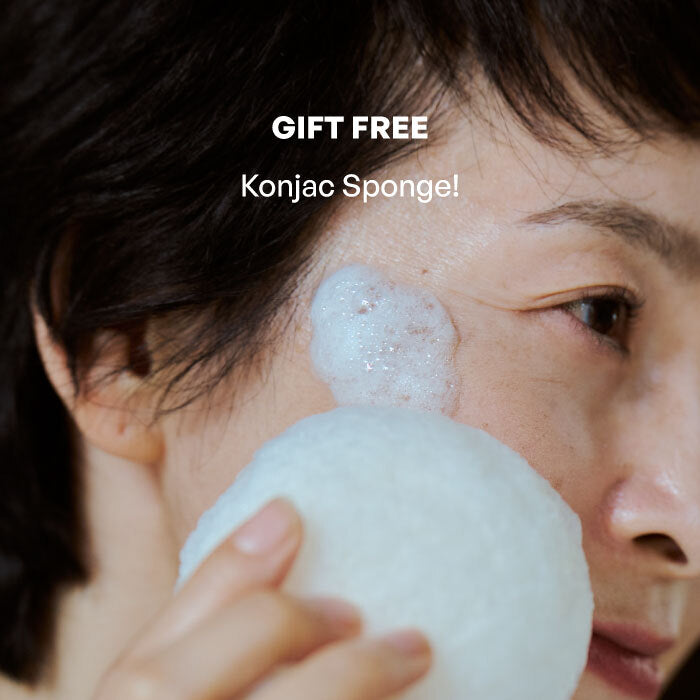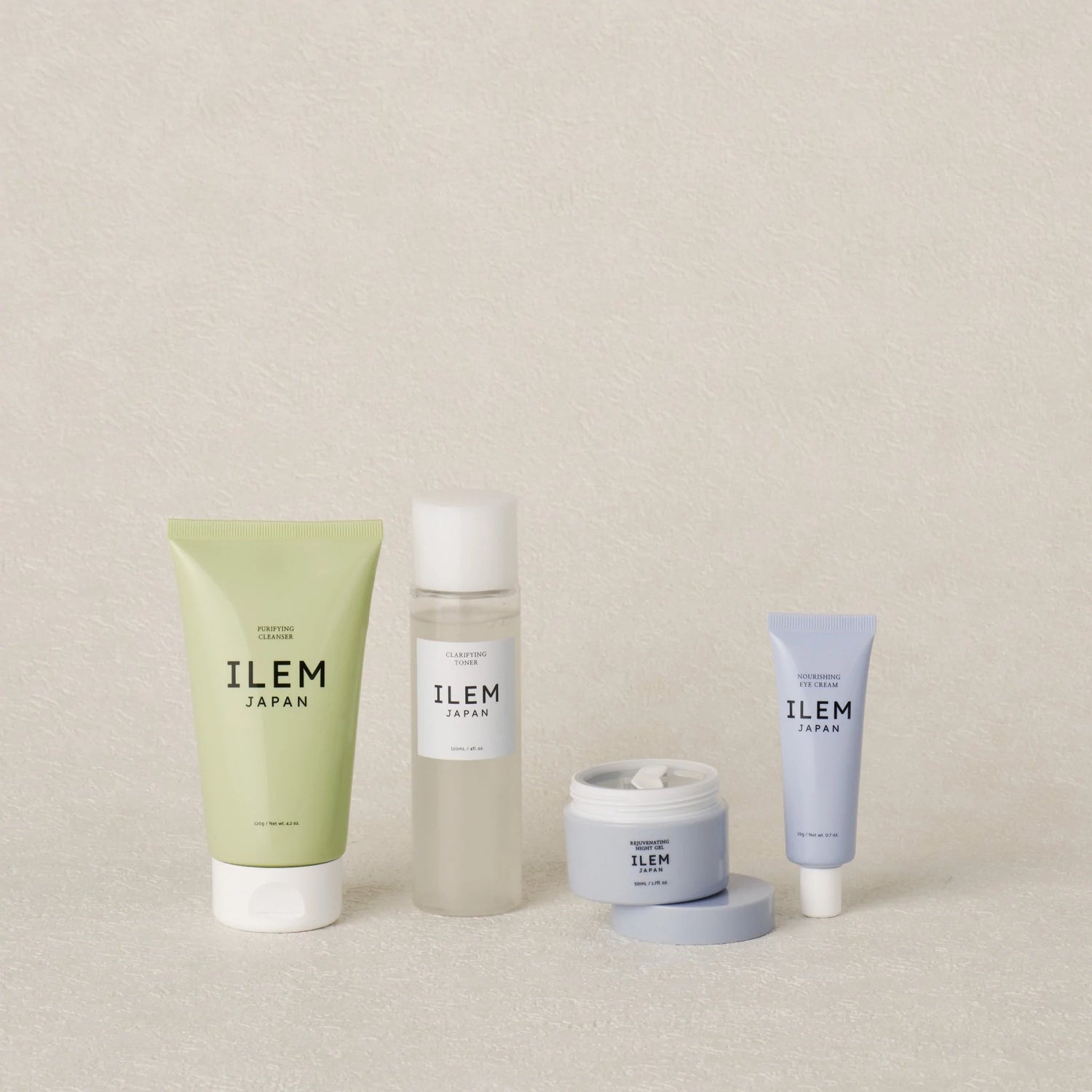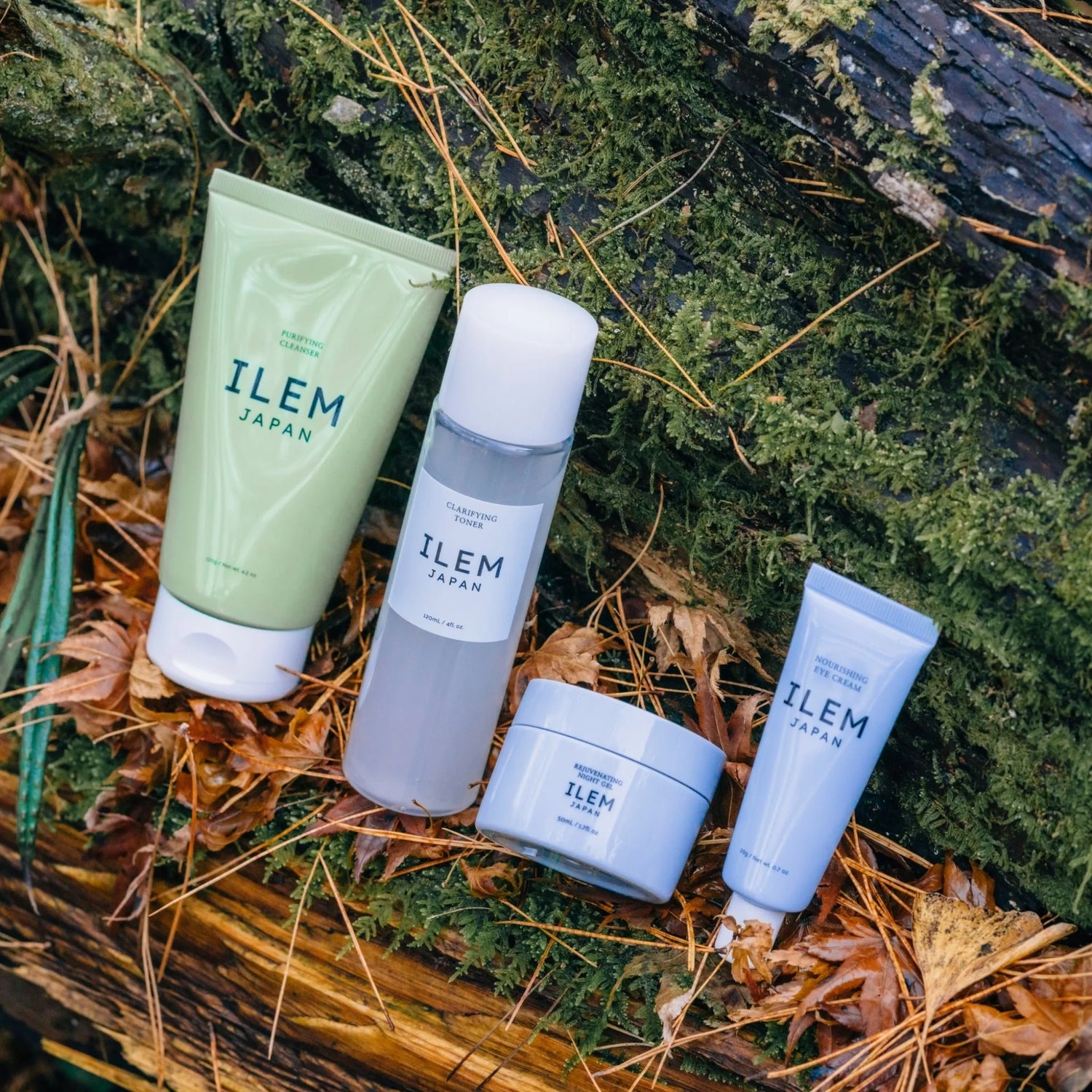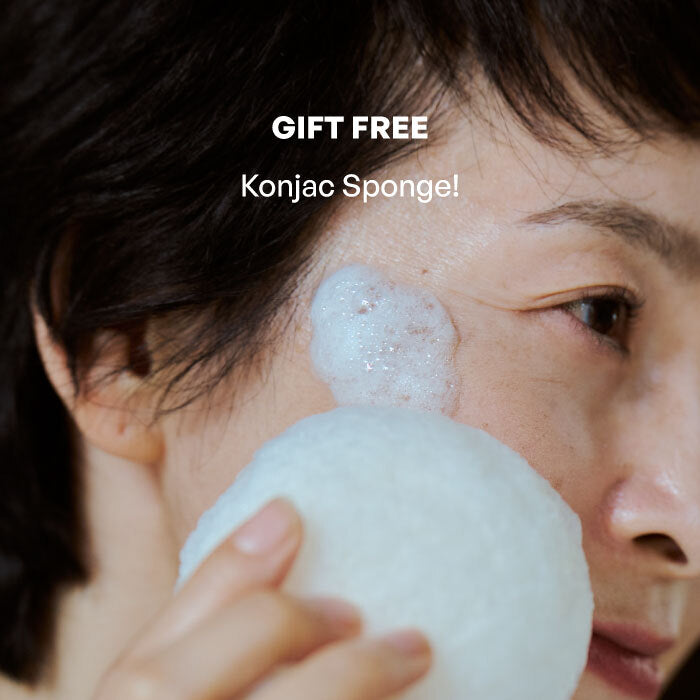 Refreshing Yoru Bento
Regular price

Rs. 8,500.00

Regular price

Rs. 9,500.00

Sale price

Rs. 8,500.00
Description
For a skincare routine that's refreshing to use morning and evening– yet is potent enough to deeply clean pores– this bento box is perfect. Enjoy efficacious essences that will leave skin feeling clean and moisturized all day long.
INCLUDES:
Purifying Cleanser (

120g / Net wt. 4.2 oz

)
Clarifying Toner (120mL / 4fl. oz.)
Rejuvenating Night Gel (50mL / 1.7fl. oz.)
Nourishing Eye Cream (20g / Net wt. 0.7 oz)
+ FREE Konjac Sponge (Green Tea)!
Read More +
Read Less -
Purifying Cleanser More Information
Clarifying Toner More Information
Rejuvenating Night Gel More Information
Nourishing Eye Cream More Information
Konjac Sponge More Information
Konjac Sponge More Information
Product Name: Purifying Cleanser

Generic Name: Cleanser

Net Content: 120mL / 4fl. oz.

Mfg Date: 2022/10/11
Exp Date: 2025/10/10

Imported By: Beyoi Wellness Private Limited, Survey No 100, Uvarsad Bridge, SG Road, Tarapur, Ahmedabad, Gujarat-382422, India

Customer Care Details: TEL: 18008890227 / E-mail: support@beyoiwellness.com

Manufactured By: Toyo Shinyaku Co., Ltd., 7-28 Yayoigaoka, Tosu-shi, Saga, JAPAN, 841-0005-Japan

Manufactured For: ILEM JAPAN Co., Ltd., 1-1-9 Neda, Ichihara, Chiba, JAPAN, 290-0024

Country Of Origin: Japan
Product Name: Clarifying Toner

Generic Name: Toner

Net Content: 120mL / 4fl. oz.

Mfg Date: 2022/09/29
Exp Date: 2025/09/28

Imported By: Beyoi Wellness Private Limited, Survey No 100, Uvarsad Bridge, SG Road, Tarapur, Ahmedabad, Gujarat-382422, India

Customer Care Details: TEL: 18008890227 / E-mail: support@beyoiwellness.com

Manufactured By: Toyo Shinyaku Co., Ltd., 7-28 Yayoigaoka, Tosu-shi, Saga, JAPAN, 841-0005-Japan

Manufactured For: ILEM JAPAN Co., Ltd., 1-1-9 Neda, Ichihara, Chiba, JAPAN, 290-0024

Country Of Origin: Japan
Product Name: Rejuvenating Night Gel

Generic Name: Night Gel

Net Content: 50mL / 1.7fl. oz.

Mfg Date: 2022/09/29
Exp Date: 2025/09/28

Imported By: Beyoi Wellness Private Limited, Survey No 100, Uvarsad Bridge, SG Road, Tarapur, Ahmedabad, Gujarat-382422, India

Customer Care Details: TEL: 18008890227 / E-mail: support@beyoiwellness.com

Manufactured By: Toyo Shinyaku Co., Ltd., 7-28 Yayoigaoka, Tosu-shi, Saga, JAPAN, 841-0005-Japan

Manufactured For: ILEM JAPAN Co., Ltd., 1-1-9 Neda, Ichihara, Chiba, JAPAN, 290-0024

Country Of Origin: Japan

Product Name: Nourishing Eye Cream

Generic Name: Eye Cream

Net Content: 20g / Net wt. 0.7 oz

Mfg Date: 2022/09/29
Exp Date: 2025/09/28

Imported By: Beyoi Wellness Private Limited, Survey No 100, Uvarsad Bridge, SG Road, Tarapur, Ahmedabad, Gujarat-382422, India

Customer Care Details: TEL: 18008890227 / E-mail: support@beyoiwellness.com

Manufactured By: Toyo Shinyaku Co., Ltd., 7-28 Yayoigaoka, Tosu-shi, Saga, JAPAN, 841-0005-Japan

Manufactured For: ILEM JAPAN Co., Ltd., 1-1-9 Neda, Ichihara, Chiba, JAPAN, 290-0024

Country Of Origin: Japan

Product Name: Natural Konjac Sponge (Green Tea - Face)

Generic Name: Konjac Sponge

Net Content: 6g / Net wt. 0.21 oz.

Mfg Date: 2022/11/15
Exp Date: 2027/11/14

Imported By: Beyoi Wellness Private Limited, Survey No 100, Uvarsad Bridge, SG Road, Tarapur, Ahmedabad, Gujarat-382422, India

Customer Care Details: TEL: 18008890227 / E-mail: support@beyoiwellness.com

Manufactured By: Yamamoto Farm Corporation 1447 Ichinomiya, Tomioka-shi, Gunma, JAPAN, 370-2452

Manufactured For: ILEM JAPAN Co., Ltd., 1-1-9 Neda, Ichihara, Chiba, JAPAN, 290-0024

Country Of Origin: Japan

Product Name: Natural Konjac Sponge (Green Tea - Face)

Generic Name: Konjac Sponge

Net Content: 6g / Net wt. 0.21 oz.

Mfg Date: 2022/11/15
Exp Date: 2027/11/14

Imported By: Beyoi Wellness Private Limited, Survey No 100, Uvarsad Bridge, SG Road, Tarapur, Ahmedabad, Gujarat-382422, India

Customer Care Details: TEL: 18008890227 / E-mail: support@beyoiwellness.com

Manufactured By: Yamamoto Farm Corporation 1447 Ichinomiya, Tomioka-shi, Gunma, JAPAN, 370-2452

Manufactured For: ILEM JAPAN Co., Ltd., 1-1-9 Neda, Ichihara, Chiba, JAPAN, 290-0024

Country Of Origin: Japan
Purifying Cleanser More Information

Product Name: Purifying Cleanser

Generic Name: Cleanser

Net Content: 120mL / 4fl. oz.

Mfg Date: 2022/10/11
Exp Date: 2025/10/10

Imported By: Beyoi Wellness Private Limited, Survey No 100, Uvarsad Bridge, SG Road, Tarapur, Ahmedabad, Gujarat-382422, India

Customer Care Details: TEL: 18008890227 / E-mail: support@beyoiwellness.com

Manufactured By: Toyo Shinyaku Co., Ltd., 7-28 Yayoigaoka, Tosu-shi, Saga, JAPAN, 841-0005-Japan

Manufactured For: ILEM JAPAN Co., Ltd., 1-1-9 Neda, Ichihara, Chiba, JAPAN, 290-0024

Country Of Origin: Japan

Clarifying Toner More Information

Product Name: Clarifying Toner

Generic Name: Toner

Net Content: 120mL / 4fl. oz.

Mfg Date: 2022/09/29
Exp Date: 2025/09/28

Imported By: Beyoi Wellness Private Limited, Survey No 100, Uvarsad Bridge, SG Road, Tarapur, Ahmedabad, Gujarat-382422, India

Customer Care Details: TEL: 18008890227 / E-mail: support@beyoiwellness.com

Manufactured By: Toyo Shinyaku Co., Ltd., 7-28 Yayoigaoka, Tosu-shi, Saga, JAPAN, 841-0005-Japan

Manufactured For: ILEM JAPAN Co., Ltd., 1-1-9 Neda, Ichihara, Chiba, JAPAN, 290-0024

Country Of Origin: Japan

Rejuvenating Night Gel More Information

Product Name: Rejuvenating Night Gel

Generic Name: Night Gel

Net Content: 50mL / 1.7fl. oz.

Mfg Date: 2022/09/29
Exp Date: 2025/09/28

Imported By: Beyoi Wellness Private Limited, Survey No 100, Uvarsad Bridge, SG Road, Tarapur, Ahmedabad, Gujarat-382422, India

Customer Care Details: TEL: 18008890227 / E-mail: support@beyoiwellness.com

Manufactured By: Toyo Shinyaku Co., Ltd., 7-28 Yayoigaoka, Tosu-shi, Saga, JAPAN, 841-0005-Japan

Manufactured For: ILEM JAPAN Co., Ltd., 1-1-9 Neda, Ichihara, Chiba, JAPAN, 290-0024

Country Of Origin: Japan


Nourishing Eye Cream More Information

Product Name: Nourishing Eye Cream

Generic Name: Eye Cream

Net Content: 20g / Net wt. 0.7 oz

Mfg Date: 2022/09/29
Exp Date: 2025/09/28

Imported By: Beyoi Wellness Private Limited, Survey No 100, Uvarsad Bridge, SG Road, Tarapur, Ahmedabad, Gujarat-382422, India

Customer Care Details: TEL: 18008890227 / E-mail: support@beyoiwellness.com

Manufactured By: Toyo Shinyaku Co., Ltd., 7-28 Yayoigaoka, Tosu-shi, Saga, JAPAN, 841-0005-Japan

Manufactured For: ILEM JAPAN Co., Ltd., 1-1-9 Neda, Ichihara, Chiba, JAPAN, 290-0024

Country Of Origin: Japan


Konjac Sponge More Information

Product Name: Natural Konjac Sponge (Green Tea - Face)

Generic Name: Konjac Sponge

Net Content: 6g / Net wt. 0.21 oz.

Mfg Date: 2022/11/15
Exp Date: 2027/11/14

Imported By: Beyoi Wellness Private Limited, Survey No 100, Uvarsad Bridge, SG Road, Tarapur, Ahmedabad, Gujarat-382422, India

Customer Care Details: TEL: 18008890227 / E-mail: support@beyoiwellness.com

Manufactured By: Yamamoto Farm Corporation 1447 Ichinomiya, Tomioka-shi, Gunma, JAPAN, 370-2452

Manufactured For: ILEM JAPAN Co., Ltd., 1-1-9 Neda, Ichihara, Chiba, JAPAN, 290-0024

Country Of Origin: Japan


Konjac Sponge More Information

Product Name: Natural Konjac Sponge (Green Tea - Face)

Generic Name: Konjac Sponge

Net Content: 6g / Net wt. 0.21 oz.

Mfg Date: 2022/11/15
Exp Date: 2027/11/14

Imported By: Beyoi Wellness Private Limited, Survey No 100, Uvarsad Bridge, SG Road, Tarapur, Ahmedabad, Gujarat-382422, India

Customer Care Details: TEL: 18008890227 / E-mail: support@beyoiwellness.com

Manufactured By: Yamamoto Farm Corporation 1447 Ichinomiya, Tomioka-shi, Gunma, JAPAN, 370-2452

Manufactured For: ILEM JAPAN Co., Ltd., 1-1-9 Neda, Ichihara, Chiba, JAPAN, 290-0024

Country Of Origin: Japan
Step 0 1:

Purifying Cleanser

The Purifying Cleanser gently removes impurities while also hydrating your skin barrier. It utilizes Japanese Tanakura Clay, Artichoke Leaf Extract, and Squalane to effectively help cleanse and also remove excess sebum– leaving you with clear and refreshed skin.

Read More +

Read Less -

Step 0 2:

Clarifying Toner

This toner gently further helps clear clogged pores without sacrificing crucial hydration. With a unique blend of nourishing Japanese Sakura Leaf Extract and Rose Fruit Extract– it is sure to leave your skin feeling renewed.

Read More +

Read Less -

Step 0 3:

Rejuvenating Night Gel

The perfect addition after your daytime routine & it is formulated with a reliable concoction of good-for-skin botanicals. From the help of Bulgarian Damask Rose Stem Cells, Primrose Seed Extract, and also anti-inflammatory Japanese Plum Extract– this unique texture helps lock-in moisture overnight and is a calming care for your skin to adore.

Read More +

Read Less -

Step 0 4:

Nourishing Eye Cream

Packed with essential nutrients from Japanese Rice Lees Extract, Swiss Apple Stem Cells, Hydrolyzed Hyaluronic Acid and more– it's the perfect elevation to any personal care routine. Help combat signs of aging and fine lines with this rich blend of botanical ingredients.

Read More +

Read Less -
Quick view