Hydrating Bio-Cellulose Face Mask
Regular price

Rs. 1,850.00

Regular price

Sale price

Rs. 1,850.00
Your shot of intense hydration with Japanese wisdom for mochi skin.

Need a quick hydration boost for your dry, dehydrated skin? The Hydrating Bio-Cellulose Face Mask, a luxurious fusion of Japanese Rice Bran Extract and Hyaluronic Acid combined with bio-cellulose nata de coco is your savior.

Following the Japanese skincare principle of mochi skin, this hydrating face mask delivers a gentle touch that soothes, nourishes, and rejuvenates, quenching your skin's thirst for hydration. The hydrating Hyaluronic acid and antioxidant Japanese Rice Bran Extract work together to unveil a plump, supple, and irresistibly touchable complexion for long-term healthy skin.

Thanks to the natural bio-cellulose material of the mask sheet, which is made from plant-derived cellulose sheet (primarily coconut water) and manufactured with microbial fermentation technology, the face mask protects against the evaporation of the serum by creating a barrier, sealing in every drop of nature's nurturance. It promises an ultimate spa-like experience at home as you unwind and relax while the sheet mask works its magic!

This unique formula uses 98% natural origin ingredients and is made entirely in Japan. Suitable for all skin types, including sensitive skin. Specially recommended for normal to dry skin.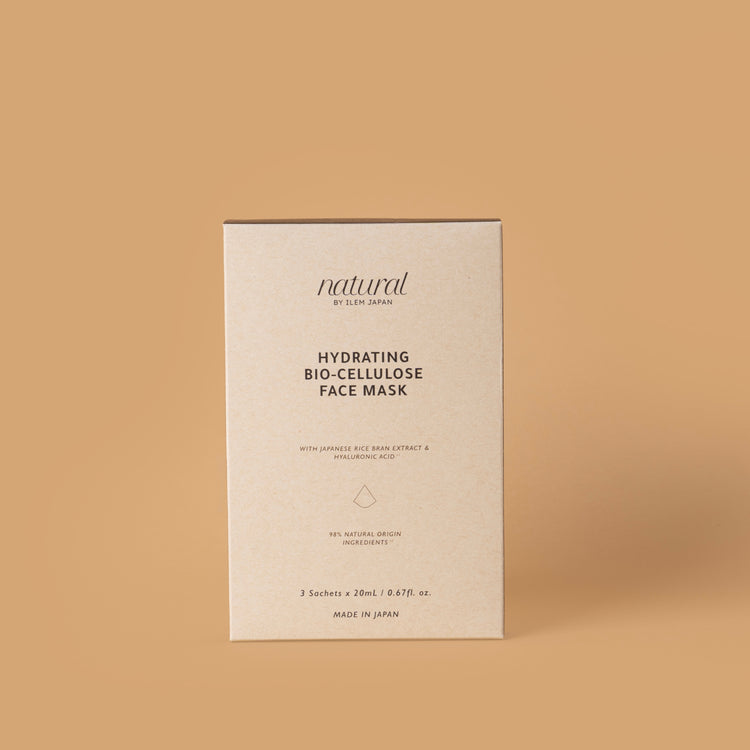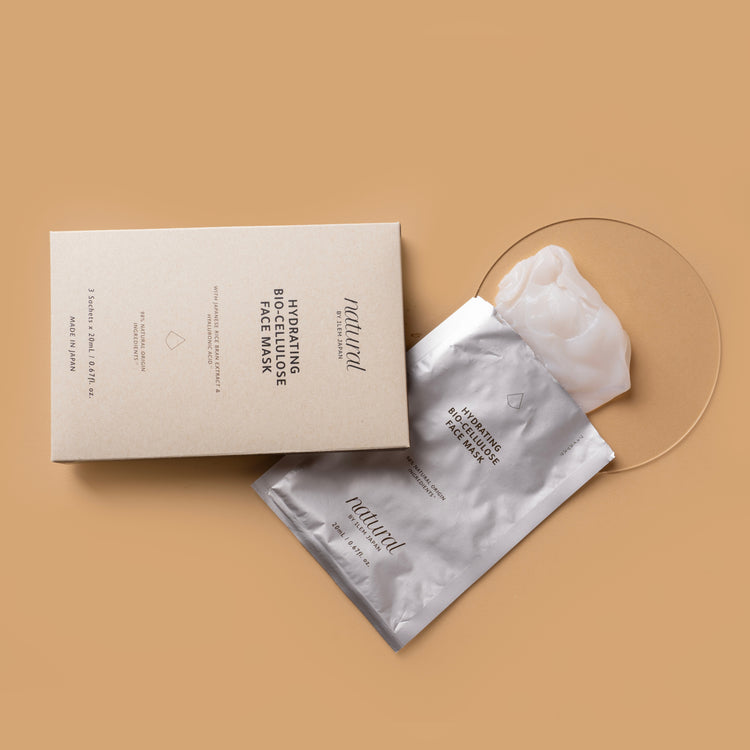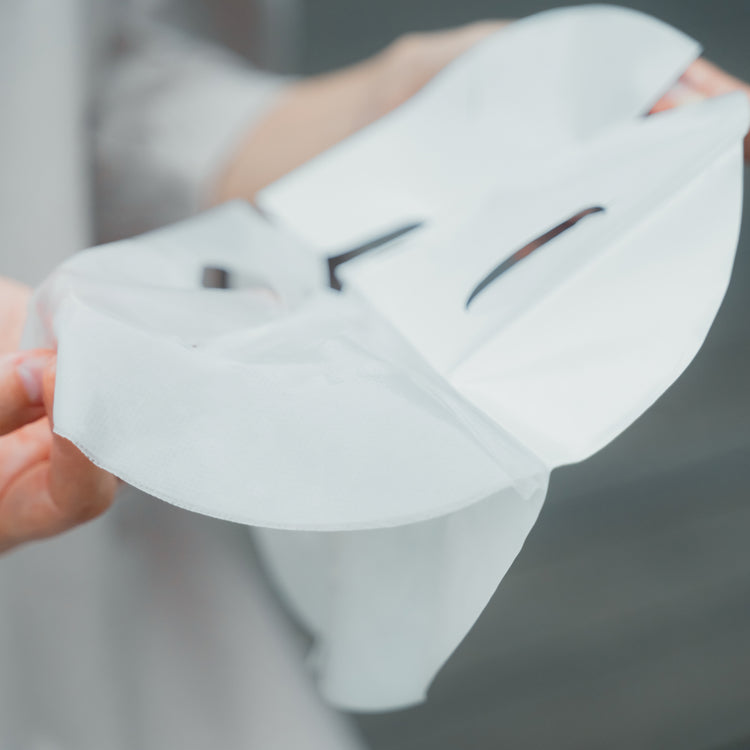 Application
Benefits
More Information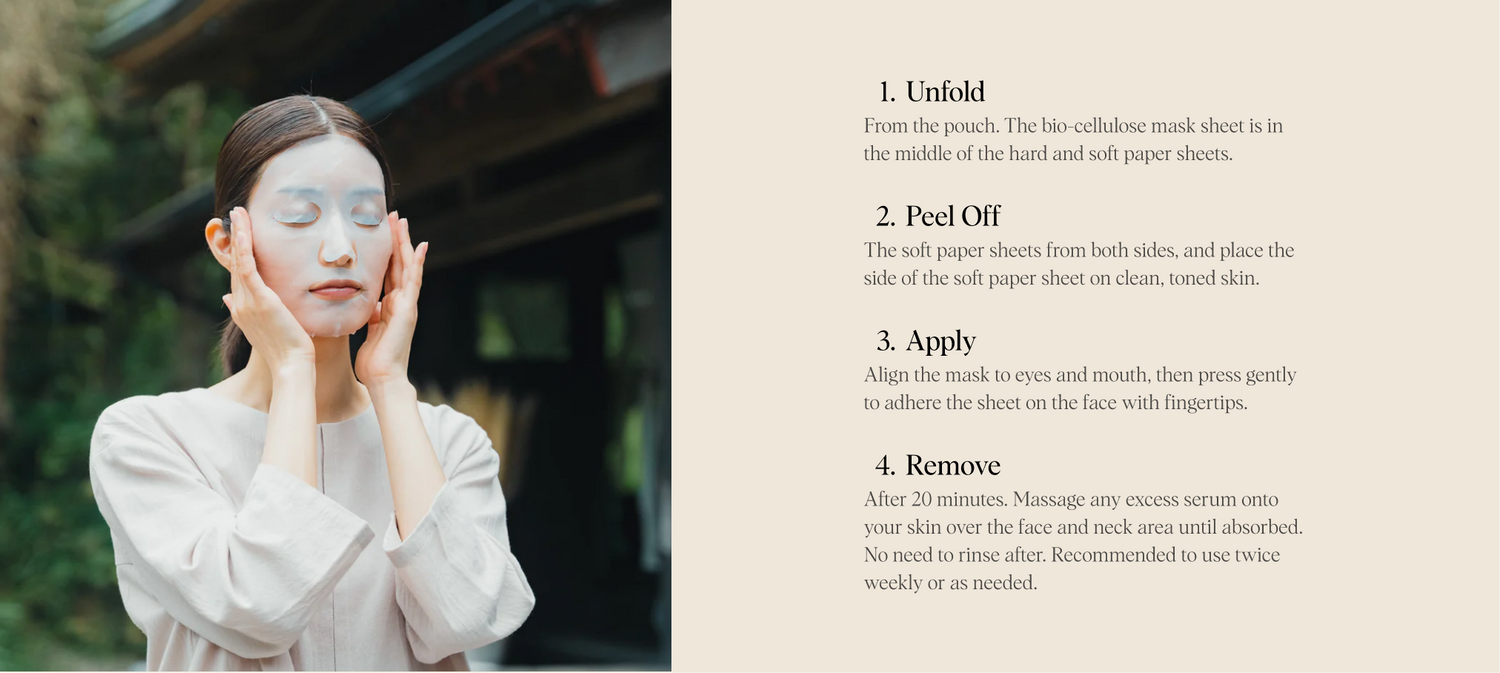 Gives your skin much-needed hydration with the power of Hyaluronic acid, an ingredient that retains water in your skin like no other!

Reveals a glowing, youthful, even-toned complexion as the Rice Bran Extracts work their magic to restore your skin's precious barrier.

The bio-cellulose material of this face mask is the same as Nata De Coco, naturally retaining moisture and providing a cooling effect that leaves your skin refreshed and renewed.

Crafted with sensitivity, it blends the allure of Japan's timeless skincare wisdom and modern science in a face mask with 98% natural origin ingredients seldom found in other skincare routines.
Product Name: Hydrating Bio-Cellulose Face Mask

Net Content: 3 Sachets x 20mL / 0.67fl. oz.

Mfg Date: 2023/07/03
Exp Date: 2026/07/02

Imported By: Beyoi Wellness Private Limited, Survey No 100, Uvarsad Bridge, SG Road, Tarapur, Ahmedabad, Gujarat-382422, India

Customer Care Details: TEL: 18008890227 / E-mail: support@beyoiwellness.com

Manufactured By: Toyo Shinyaku Co., Ltd., 7-28 Yayoigaoka, Tosu-shi, Saga, JAPAN, 841-0005-Japan

Manufactured For: ILEM JAPAN Co., Ltd., 1-1-9 Neda, Ichihara, Chiba, JAPAN, 290-0024

Country Of Origin: Japan
Frequently Asked Questions
---
Can it provide long-lasting hydration even for severely dry skin?

Yes. Ingredients such as Rice Bran Extracts and Hyaluronic Acid in the mask with its bio-cellulose material made of Nata de coco make this mask effective at providing long-lasting hydration, even for severely dry skin.
---
How often should I use this face mask?

You can use this mask as often as needed.
---
Is the sheet comfortable to wear and adjust during the application?

It is made out of Nata de coco, whose texture helps the sheet mask comfortably adhere to your skin. However, since it is made of natural ingredients, it is best to handle it with care.
---
Are there any specific benefits of using a bio-cellulose mask?

In contrast to traditional sheets, Bio-cellulose masks are made from natural ingredients. Thus, they fit better to your face, are better at locking hydration, and have a naturally cooling effect. They are also more environmentally friendly and are well-received by those with sensitive skin.
---
Are there any traditional Japanese ingredients used in this product?

Yes, we have used Japanese Rice Bran Extract in this product for hydration, protection against free radical damage, and brightening the complexion.
---
Is this mask fragrance-free?

Yes, it is fragrance-free.
Quick view